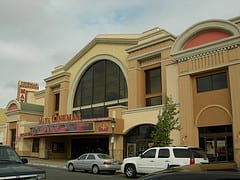 Moctesuma Esparza is joining the expansion efforts of the Cabazon Band of Mission Indians and Fantasy Springs Resort Casino.  Mr. Esparza,  CEO of Maya Cinemas, will be developing a 16 Theater Cineplex in conjunction with major expansion plans in and around Fantasy Spring Resort Casino.
The 16-screen deluxe movie theatre is set to open in the fall of 2015 at Fantasy Springs Resort Casino in Indio, California. The theatre will include 70,000 square-feet of movie-going amenities, including luxurious, extra-wide rocker seats for movie-goers.
This Maya location will be a large part of the existing Fantasy Springs Resort Casino Entertainment District, which includes a world-class casino, five-star hotel and 18-hole championship golf course, as well as a Special Events Center and parking. The cinema is in addition to a 130,000 square-foot retail destination to be included at the resort.
Click here for KESQ TV's report on the new Maya Cinema's theatre.