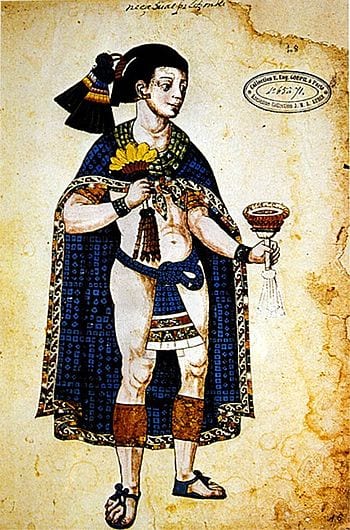 When we picture the Aztecs, we generally imagine them in the splendor of their ceremonial robes so often depicted in Aztec art.  But what else did they wear?
Research shows that most of the Aztec's clothing was made from imported cotton or ayate fiber made from the Maguey Cactus.  Because of the Aztecs' extensive trading network, they had access to a wide array of dyes that they used to create brilliantly colored clothing.
Most commoners and slaves were dressed very simply and very sparsely.  Male slaves wore only a loincloth, and even free commoners often dressed this way.  Lower-class men often wore a triangular cloak called a tilmatli or tilma as well, a sturdy garment that doubled as both a cloak and a bag with which to carry things.  Lower class women typically wore simple skirts and sleeveless blouses.
The upper class of the ancient Aztec Empire wore clothing that was much more elaborately adorned.  Often, noblemen and religious leaders would wear loin cloths and and tilmas, just as commoners did, except with accents of gold, jewels, furs, and feathers.  Head dresses were also worn as symbols of station and affiliation.   Merchants enjoyed a combination of wealth and freedom that no other class in the Aztec Empire could boast, and as a result, much of their clothing was more elaborate.
The Aztec military was divided into two groups, the eagle and the jaguar, and each soldier dressed according to his group.  Warriors were revered, and their hierarchy was reflected by the amount of adornment on each costume.  War heroes were given the most jewels and the most stunning clothing.