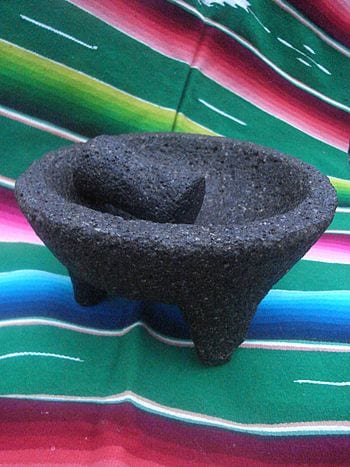 The average Aztec kitchen had what is called a comal.  The traditional comal has a round or oval-shaped top made of fire-hardened ceramic sitting on three or four stones, known as tenamaxtlán.  The tenamaxtlán holds the ceramic top over a fire or coals, upon which food is cooked.
When making salsas or salsas, the Aztecs used a type of mortar and pestle called a molcajete and a tejolote.  Molocajete comes from combining the Nahuatl words molli, meaning "seasoning" or "sauce," and caxitl, meaning "bowl."  Likewise, tejolote comes from the Nahuatl words "tetl," meaning stone, and "xolotl," meaning doll.
You can still buy these traditional Aztec cooking pieces, and the molcajete and tejolote are especially prevalent.  Just remember, if you want to go traditional, the best quality pieces are made from basalt with the lowest possible sand content.