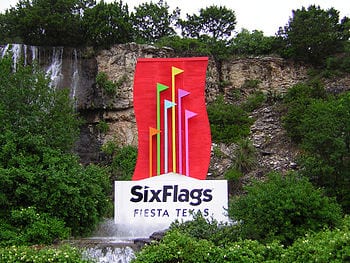 Six Flags recently announced that one of their new rides next year will include a Batman-themed ride for Six Flags' Fiesta Texas Park in San Antonio.  Mark Bozer, park president, stated, "Every year we continue to provide more and more innovative technology and excitement for our park guests and season pass holders. BATMAN™: The Ride is an entirely new concept in ride engineering and will provide a sensory experience like no other coaster. The unanticipated tumbling will add even more thrills as riders travel along the dipping and swirling track."
The theme park chain will also be adding other comic book franchise-themed rides, including a Justice League: Battle for Metropolis ride at Six Flags in Missouri and Texas.  Other Six Flags parks are set to include the Joker Chaos Coaster and the Dare Devil Chaos Coaster.
Six Flags isn't the only park banking on movie franchises to help bolster park attendance.  Universal Orlando is working hard to incorporate scary movies into its annual Halloween celebration.
To read more, click here.