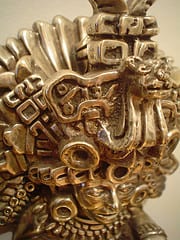 Nearly five hundred years ago, Spanish conquistador Hernán Cortés arrived in Tenochtitlan.  Emperor Moctezuma II received the Spaniards warmly with gifts of jewels and fine clothes, perhaps because he believed that the armored Spaniards marked the return of Quetzalcoatl, a major Aztec deity.
The Europeans marveled at the wonders of the great city, despite their disgust upon discovering the Aztec temples steeped in blood and human sacrifice.  Upon viewing the city's market square, chronicler Bernal Díaz del Castillo wrote that "Never had they seen a square that compared so well, so orderly and wide, and so full of people, as that one."
Now, the bustle of Mexico City covers the ancient Tenochtitlan.  Archaeologists are everywhere in the area, digging for clues of the Aztec peoples' past.  Throughout downtown Mexico City, archaeologists have found some 40,000 artifacts, including mirrors made of shiny obsidian, Pacific turtle shells that were much-prized by the Aztecs, and precious jade-and-turquoise masks, all of which attest to the empire's wealth.
Read more here.